Natural Skin Lightening Products for Intimate Areas
you can stop scrolling now. yes, you. we can see you scrolling and searching for the best and safest skin lightening creams on the market. i assure you, my friend, your search ends here.
one morning you'll take a glance at the mirror and realize what was once a beautiful, even canvas is now a picture of imbalanced hormones, years of bathing in the sun, and your skin is telling you "hey, this is what real life looks like"
don't freak out- it is completely normal and beauty should be diverse. "love the skin you're in!" and all that, right?
dark intimate areas?
whether or not we show it- we all deal with dark areas on the skin (aka hyperpigmentation). our skin is our (now second) largest organ. it protects us and makes us look presentable… so, we need to protect it as well. we are here to tell you how to do just that- in bryghtest way possible. 
hyperpigmentation is caused by a number of factors; hormonal changes, age, skin injuries, ethnicity, and more. bryght products are safe, vegan, non-gmo, and cruelty-free. bryght is also safe for all skin types. yes, especially for all you health-conscious, avant-garde vegans! our treatment is safe to use anywhere externally on the body. lighten and brighten every inch of that body, honeyy! our formulas say no to the hydroquinone, no to the kojic acid, and no to the mercury. all of the lightening components are derived from plants. 
lightening creams do work (well… at least we know ours does). you can trust that we've got your back, your front, your underarms, the anal region, and- your bikini line too! when we say it can be used anywhere externally, we mean anywhere.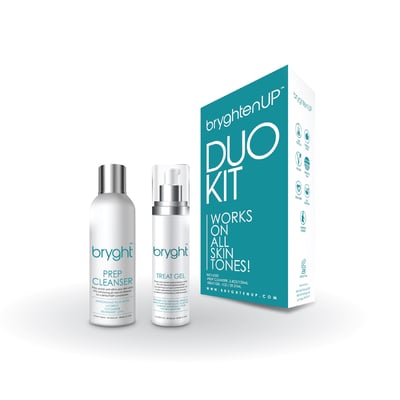 the perfect duo – the duo kit by bryght
we've created the perfect skin lightening duo to use on the daily. the packaging is so aesthetically pleasing that you will no longer hide these kinds of products in the depth of your bathroom cabinets- we want you to feel as confident about our packaging as you do your body. front and center! no shame here, baby!
bryght prep cleanser – an exfoliating all-natural cleanser rich in antioxidants, containing a combination of licorice, cucumber, and bearberry leaf extracts that kick the lightening into gear. this step also includes all-natural exfoliants to fully prep the skin before the main event.
drum roll, please …..
bryght treat gel – an all-natural lightening gel to correct the hyperpigmentation. safe to apply to sensitive and intimate areas without affecting the natural ph. a combination of licorice, cucumber, and bearberry leaf extracts to continue the lightening process.
i promise you your before-and-after will be instagram worthy. let's lighten our skin the bryght way!
to see some skin lightening before and afters of other babes on their bryght journey, take a peek here.
stop hiding your skin, and join us on the bryght side!
Most Popular
Post By Topic